Should you need to hire a van with driver in the UK we will be pleased to propose you our chauffeured service with a wide range of vans for any occasion that you may have. We offer quality service and competitive prices in the UK.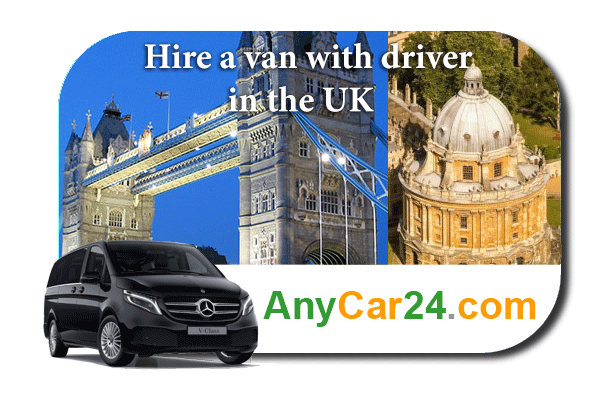 Assisted by our highly qualified team, you can hire a van with driver in the UK reliably and securely. Our parent company put together an extensive network of quality carriers in the UK, carefully selected for over a decade. That is one of the key reasons why we are able to guarantee availability and best terms even for most complex orders in the UK.
We can provide a van with chauffeur throughout the United Kingdom and in particular in London, Birmingham, Manchester, Leeds, Liverpool, Glasgow, Newcastle, Edinburgh, Sheffield, Bristol, Brighton, Portsmouth, Leicester, Reading and a number of other areas. AnyCar24.com proposes you to make your booking in two principal ways: online and via requesting a quote.
Hire a van with driver in the UK

online

By following this way of making your reservation you hire a van with driver in the UK directly in our online booking system based on availabilities at the moment of reservation. Your order is processed online without much human intervention. Based on your addresses our system will automatically define your itinerary and calculate our price proposal. It is to note, however, that this method of booking is only appropriate if your order does not exceed one day.
Request a quote for van rental with driver in the UK
This way of making a booking for your chauffeured van in the UK is currently preferable in many cases. You can select a pre-configured itinerary or yourself describe us key components of your programme. In particular, we need to know for each day: 1) your pick-up time for each transfer or hours of service and 2) your itinerary or mileage that needs to be included in our price proposal. Usually, we are able to provide you with our quote for your van rental with chauffeur in the UK within 4 hours (in a busy season we also operate a night shift).
Price of hire of van with driver in the UK
Several major factors constitute the bulk of the cost of the rental of a van and driver including driver hours, depreciation / lease costs, energy price, maintenance costs and taxes. In the last two years the average price in the UK has been the following:
Price of hire of van with driver in the UK
Description

Average price to hire a van with driver in the UK assuming 8 hours with 50 miles of mileage included

Price

£

400
This information above provides a good estimate (for the rental of a small van) but our real quote may be lower or higher depending on objective criteria such as van characteristics: capacity, class, category. Supply and demand situation for a given date, especially on public holidays and during big events, may also impact the price. Once we receive your programme we will provide you with out best price proposal in the UK taking into account your particular travel schedule and requirements.
The price published on https://www.anycar24.com/gb/en/services/rent-a-minivan.html is available OnlineOnly and is valid until 2022-11-14 subject to availability.
---
For each booking of a van with driver in the UK you will receive:
our confirmation with your trip details and conditions
all necessary contact details: driver/ dispatcher name and mobile phone
The service in the UK will be carried out in compliance with our terms and conditions.