If you need to hire a car with driver in Lisbon we will be happy to propose you our services. We provide in Lisbon a full range of chauffeured cars of various categories and classes for your transfers, hourly service, day trips and longer term rental. We guarantee quality of service and competitive rates.
Specialising in providing cars with driver in Lisbon, AnyCar24.com builds on the long and successful track record of our parent company 1CARES.com to perfect this service even further offering you more choice and a dedicated customer service team. We will certainly be able to make you our proposal for your car rental with chauffeur in Lisbon based on your needs and requirements.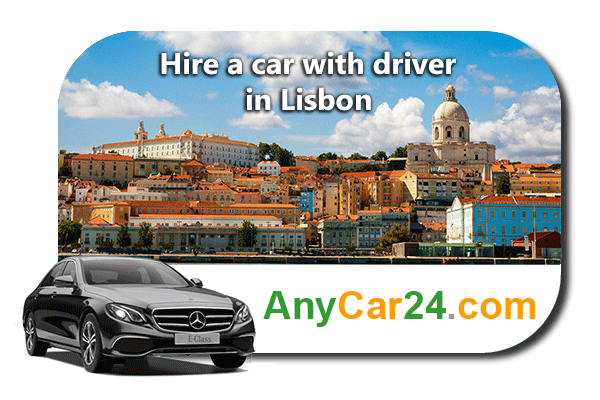 You can hire a car with driver in Lisbon effortlessly, and not least important securely, if you dedicate this task to our highly qualified team. We make use of our netwok of reliable carriers in Lisbon built for well over a decade. Such cooperation not only provides an excellent choice but it also guarantees availability and best terms even for the most challenging needs of our customers.
With AnyCar24.com you can make your booking in two principal ways: online and via requesting a quote.
Hire a car with driver in Lisbon

online

Reserving online you hire a car with driver in Lisbon directly in our booking system based on availabilities at the moment of reservation. Straightforward and fast, it's done without human intervention. Your confirmation is sent automatically right after the completion of the booking process.

Nevertheless, it may be advantageous to make a reservation in Lisbon via a request for quote, thus, providing yourself with a possibility to explore all options available to our customer service
Request a quote for car hire with driver in Lisbon
This way of making a booking for your chauffeured service in Lisbon provides you with maximum options. Select from a list of itineraries pre-configured online or simply describe us your transport programme for each day in a concise manner: pick-up time for each transfer or hours of service, itinerary or mileage that you need to be included in our price proposal. We pledge to provide you with our quote for your car rental with chauffeur in Lisbon within 4 hours (normally, outside of night hours but in busy seasons we also operate a night shift).
Price of hire of car with driver in Lisbon
The rental price of car and driver in Lisbon is the sum of several parameters such as driver working hours, car depreciation / lease costs, price of petrol, car maintenance costs, taxes and several other factors. In the last two years the average price has been the following:
Price of hire of car with driver in Lisbon
Description

Average price to hire a car with driver in Lisbon assuming 8 hours with 80 kilometers of mileage included

Price

€

300
This information provides you with a gauge of what to expect but our quote may be lower or higher depending on objective criteria such as car category and supply and demand situation for a given date. Once we receive your quote request we will be happy to provide you with our individual price proposal in Lisbon.
Note: The indicated price published on https://www.anycar24.com/pt/en/car/rent-a-car-in-Lisbon.html is available OnlineOnly and is valid until 2024-05-02 subject to availability.